Air gaps, spring heights, pressure plates and needle roller bearings were state-of-the-art in 1978. If you are satisfied with second place, there are plenty of manufacturers still making copies of that obsolete design. But this is 2016. Technology has come a long way in the last 38 years and if you want to win today, you will need state-of-the-art equipment.
SMC is the only manufacturer that has continually modernized its kart racing clutches. Our most recent patent was issued in October, 2015.
SMC produces the most highly engineered clutches on the market. Each piece of the Vortex clutch was designed on a CAD system, optimized with engineering analysis software, tested on dynamometers, re-tested on the race track and precisely machined with modern CNC machine tools. The results are easier adjustments, more races between rebuilds and faster acceleration.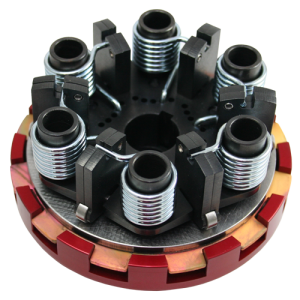 Only SMC's Vortex clutches offer tors

ion s

prings, ball bearing sprockets, roller levers and high performance friction materials.
Vortex clutch springs are very different and account for the superior acceleration. Each torsion spring pushes directly on its own lever. The springs do not pull on a pressure plate; in fact, there is no pressure plate in a Vortex clutch. This simplified spring and lever mechanism allows the Vortex clutch to operate more efficiently. The clutch is quicker to respond to small changes in engine rpm which consequently eliminates engine "bogging". The clutch locks up within a shorter distance.  Less energy is lost to heat leaving more energy for acceleration.
The Vortex lever has a roller where it contacts the drive plate.  It minimizes friction within the spring and lever mechanism and helps solve the bogging problem.
The new Vortex clutch sprockets use ball bearings instead of needle roller bearings. A ball bearing has a bi-directional thrust capacity; the other bearing has no thrust capacity. The ball bearing prevents sprocket wobble which improves acceleration and nearly eliminates all wear between the slots in the drum and the tangs on the discs.
The Vortex clutch disc's friction material is composed of metal particles and organic binders engineered specifically for kart racing.  It is not a generic automotive material.
Anyone can expertly rebuild a Vortex clutch in less than ten minutes. Vortex clutches are designed to last at least twice as long as other clutches. When restoration finally becomes necessary, the job is fast, easy and inexpensive. Fast because you do not have to send it away for repairs. Easy because air gap, spring heights and plate grinding are history. Inexpensive because you do not pay an "expert" for their labor.
Video:
Link:
Hard Hitting Clutches vs. Hard Pulling Clutches